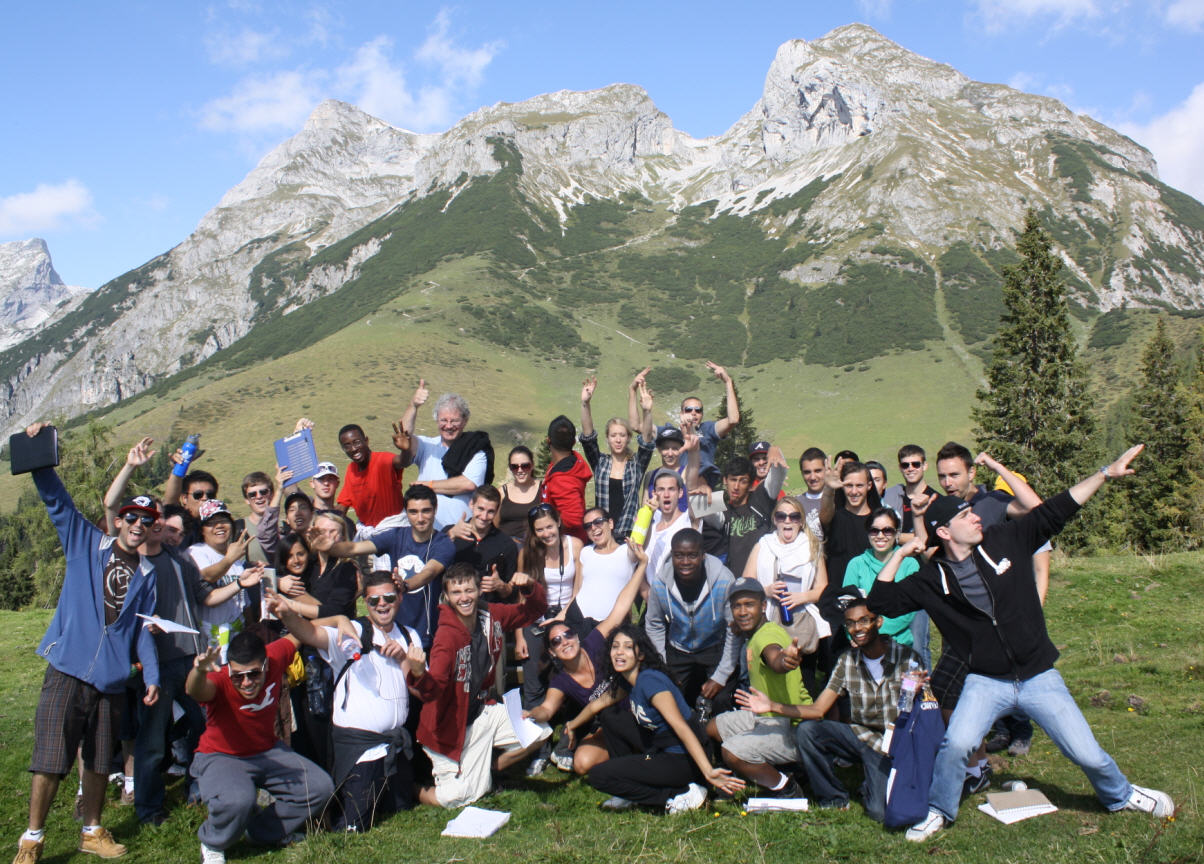 ---
Course Grading and Requirements
In-field Observation and Group Classroom Presentation
(75% of the final grade = 15% In-field observation, 60% group classroom presentation)

While in Germany, Austria, and Italy, students are required to make observations, reflections and conclusions during scheduled activities and maintain a journal. Independent observations throughout the field trip will be a valuable source of additional information. Together, these can encompass your notes, sketches and other illustrations, summaries, data, collected information, proposals, insights, comparisons, etc. (You should not offer a collection of filler material - brochures and other handouts - collected during the trip; nor provide a transcription of the notes and discussions).
You will be assigned to a group (here will be six groups with each one assigned a particular topic related to the field trip). In total, your group should put together a body of work expressing your insights and understanding of the topic that is assigned. Good presentations will be comprehensive, concise, thoughtful, insightful, and perceptive.

You will be given directions each day to assist you in organizing your observations and tips on presentation content.
Test - will be administered in class on September 14 - (25% of the final grade)
(multiple choice and fill in the blanks)
Based on:
| Austrian National Tourist Office | South Tyrol Autonomy | South Tyrol Stats | Salzburg Tourism | Republic of Austria | Innsbruck Tourism |
The group classroom presentations will take place on October 26 in VIC205.
---
Course Fees
For students participating in Geo773: Field Studies (GermanyAustria/Italy), the total cost for the field trip portion of the course will be $1450.00 (this includes the $100 initial deposit). You will also have to pay the normal tuition fee for the course (just like any other course you take).
Payment option 1: Make a second payment of $850 on or before April 14, 2011. The remaining $500 will be paid as a Geo773 ancillary fee in addition to your regular tuition in the Fall (i.e. the course ancillary fee for Geo773 is $500 and this covers the remaining part of the total of $1450).
Payment option 2 : Make a second payment of $400 on or before April 14, 2011 and a third payment of $450 on or before July 14, 2011. The remaining $500 will be paid as a Geo773 ancillary fee in addition to your regular tuition in the Fall (i.e. the course ancillary fee for Geo773 is $500 and this covers the remaining part of the total of $1450).
Please bring a cheque(s) payable to the Department of Geography, Ryerson University or cash (cheque preferred) to Sally Wong (Administrative Assistant) in JOR600. If you want to leave post-dated cheques for these dates, it is not a problem.
The $1450 cost includes:

airfare
accommodation
local transportation (where applicable)
applicable entrance fees
bus/train transportation to/from the Munich airport and for field trip activities/excursions
---
Flights

---
---
Planned Accommodation Information

September 17-20, 2011
Youth Hostel Bozen
Rittnerstrasse/via Renon 23
I-39100 Bozen/Bolzano, Italy
Tel: 011-39-0471-300865
Fax: 011-39-0471-300858
Email: bolzano@ostello.bz
September 22, 2011
Dr.Heinrich-Hackel-Hütte and the Sameralm (webpage in German)
Werfenweng/Wengerau, Austria
Tel. 011-43-664-342-9114 (Hackel-Hütte)

September 21 and 23-24, 2011
Junges Hotel Salzburg-Eduard-Heinrichhaus
Eduard-Heinrich-Straße 2
A-5020 Salzburg, Austria
Tel. 011-43-662-625976
Email: heinrichhaus@hostel-salzburg.at
---
Items you should bring
The field trip program includes many outdoor activities, therefore the following items should be included in your luggage:
Personal:
rain gear
hiking boots or a very good pair of hiking shoes
personal hygiene items (toothbrush, toothpaste, shampoo etc.)
a towel (bed sheets are provided in Bozen and Salzburg but towels are not), a sleep-sack for the Sameralm or Heinrich Hackel Hut.
sufficient clothing for the trip (unless you want to do laundry). Remember that the weather can be very unpredictable. You can expect temperatures in Bozen, Salzburg, Munich, and Werfenweng anywhere between 5 and 30 Celcius. Rain is also a possibility. At higher elevations, it may be colder, bring a fleece or equivalent.
a hat (the sun is stronger at higher elevations)
a day pack for use in the areas that we will be visiting
any required medication
Activity Related:
Your in-field exercises will require that you have something for writing notes and sketching. Pens and pencils will also prove useful!
a digital camera or a camera with film
Anything else you think you need (within reason).
Should you forget something --- our destinations are developed countries and you can probably purchase what you need.
---
Money and Exchange Rate Information
The currency used in most European countries (including Italy and Austria) is the Euro. At present (January 19, 2011) 1 Euro = ~$1.32 CDN.
You can keep track of the exchange rate using one of the many currency sites. The Oanda site seems quite good. Go to: http://www.oanda.com/currency/converter/
More information will be provided before we depart.
---
Other Useful Information...
Bozen/Bolzano Information | Weather in Bozen (in German) | Weather in Salzburg | Salzburg Information |

---
Contact and Questions
Dr. K. Wayne Forsythe
Department of Geography
Ryerson University
350 Victoria Street
Toronto, Ontario, CANADA M5B 2K3

tel. 416-979-5000 extension 7141
fax. 416-979-5362
email.forsythe[at]geography.ryerson.ca *Note: for email address please replace [at] with @

---